Blog
It was over four years ago when we boarded that plane that brought us together with our daughter Chloe on Ugandan soil. We knew very little about what God had in store for us in the years to come. The one thing we did know: we were being obedient. Over these past four years, we have been blessed to get to work alongside Arise Africa International (AAI), doing ministry in districts throughout Uganda as well as right here in the heart of Jinja.  Some of the highlights with AAI have been:
Training AAI village Pastors in theology.
Getting to share Jesus with so many in need…and seeing people SAVED!
Working alongside short-term international mission teams serving AAI churches and schools.
Seeing children in the AAI Babies Home reunited with family and also established in school.
Beginning the first AAI "town church," and seeing it grow and produce SO much fruit.
Witnessing the Lord lead our very own children to serve and care for others.
Working alongside local AAI staff for regular "Staff Missions," taking training and encouragement to our AAI churches throughout Uganda.
Seeing new churches planted every year through AAI.
Along with ministry highlights, we have experienced many family highlights as well…
We have celebrated 27 birthdays.
A new Via Girl (Kaliyah) was born, and we are expecting Baby Via #6 in Jan 2018!
We have seen God move and work in ways we never imagined.
We have completed 3.5 years of homeschool!
Two of our daughters accepted Christ here and were baptized by their Daddy.
And last but not least, after 5 years, CHLOE HAS RECEIVED HER VISA!!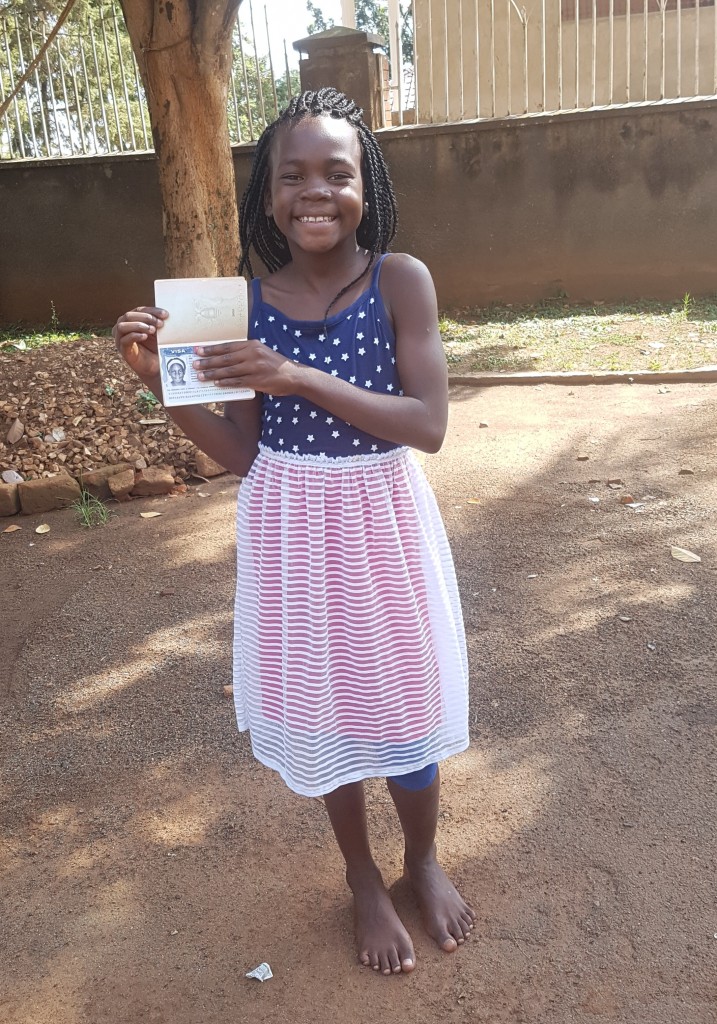 YES, that's right!!  Chloe has her VISA…which means we are coming to the US! But here's the twist:
GOD STILL HAS MORE FOR US IN UGANDA.
We have decided to once again be obedient to what we feel strongly that God is leading us to do; to come back to Uganda and continue working alongside Arise Africa early 2018.  What we thought would be our US homecoming will now become our furlough, where we will find much needed rest and reconnection with friends and family and work to raise future funds.  This way, we will return to Uganda refreshed and ready to begin a new season.
For now, we want to pause and ask you to celebrate Chloe's VISA with us!!  This process has been longer and more difficult than we ever imagined, and we thank you ALL for loving and supporting us through it.  We cannot WAIT for our friends and family in America to meet our sweet daughter, Chloe Laiti Via…and she cannot wait to meet YOU!  Over the next week we are working toward raising our goal of $13,800 for airline tickets for our family to return to America…for Chloe to come to America FOR THE FIRST TIME EVER! Would you consider helping us reach our goal? Would you share our story with your friends and family? Will you stay in prayer for us as we are in this transitional season?
Thank you for loving our family well.  We could never do this without a support system like YOU that's willing to say "Yes" alongside us. We can't wait to see you in America!
*As of today, we have still been unsuccessful in finding furlough/missionary housing available to our family in RALEIGH, NC. If you have any leads for a place that could house our family of 7 for PART or ALL of our stay, please contact us! We will be between Raleigh, NC & Roanoke, VA from mid-July 2017 through mid-February 2018.  If you have accommodations that would cover ANY part of that time in Raleigh, be a week or a month, please let us know!* 
We are planning in faith to travel ONE WEEK from today – Monday, July 17, 2017!!
How to DONATE to our AIRLINE TICKETS:
 Go to www.wrpartners.org
 click on 'Donate'
 under 'designations' choose "Bring Chloe Home"
(don't see it? Then, choose "Smooth & Kelly Via" and fill in the next "optional" line with
"Bring Chloe Home.")
make your tax-deductible donation and press "donate".  
Thank you!!!